( Tree's Alaska Trip )
Nova Scotia to Alaska
30 days by motorcycle july/aug 1998
. . . . on a 1994 BMW R1100RS .


I made a few changes to the bike before the trip. Put on a tall Parabellum windshield, and a leather Corbin seat. Tried a set of bar backs earlier which didn't give me the wrist angle I wanted. Bought some billet alloy and machined a pair of my own design with a built in ten degree twist that rotated my wrists up higher, the same angle as my old 1980 R100RT.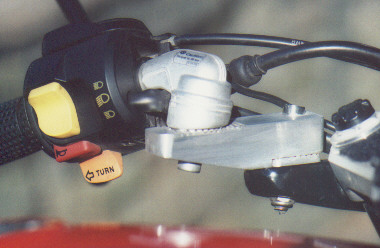 I through drilled them for stainless steel nuts/bolts that I could torque much tighter. If I dropped the bike in the boonies, the bars should be easier to fix than stripped aluminum threads in blind holes. Put on softer foam grips, reduced what little vibration there was left. I tested grips by putting two kinds on the bike together, your hands tell you which one feels better pretty fast.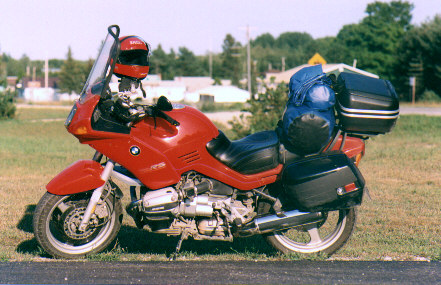 My luggage was regular hard bags and a small Krauser top trunk, plus my tenting gear in a 30 liter waterproof Sealine kayak bag. I carried a two man Kelty Vortex 2 tent ( good dome type rectangular tent ), a Thermo-rest self inflating pad , and a Woods city 350 liteloft bag that is rated to five deg C and packs up about the size of a loaf of bread . This all fit in the waterproof bag I kept on top of my rear seat with bungees. I kept clothes to a bare minimum. Took two pairs of jeans, one pair shorts, a bathing suit, half a dozen T shirts, one fleece sweater, and my touring boots. No extra shoes or sandals as luggage space was pretty limited.
Carried all my camera gear in a small Pelican 1200 waterproof case inside the hard saddlebag, a Pentax MX body with 4 lenses, 28mm, 40mm, 50mm, 135mm. I like the MX because it is the smallest 35mm camera Pentax ever made, and is totally mechanical, if the battery dies you still have all your shutter speeds. Shot mostly negatives and a few slides.
Day 1 : July 21st 1998. My family was overseas visiting relatives , and I had just finished working as a focus puller on a TV movie here. It was good timing for a trip, and I had one month to do it. My last trip had been after the Titanic film here two years ago. (As key rigging grip I got to hang a 20 ton Russian deep dive sub in the studio). James Cameron made us all somewhat richer, so I went rafting through the Grand Canyon for a week. This time though, I was ready for a good long distance two wheel flog. I left Halifax with 16,400 kms showing on the odometer. Went direct to Moncton, then north up backroads thru Rogersville to Miramichi river and over to Grand Falls , 28 degrees C here. Made it north to Riviere du Loup by late afternoon and took the ferry to St. Simeon on the north shore of the St. Lawrence River. This is a nice boat ride, about one hr and approx $ 30. There were a few bikes onboard, one Harley was towing a trailer made from a big wooden beer barrel with a tap on the back. The top was cutoff and a dog had his bed inside. Drove up the west side of the Saguenay River to Robertval about 10pm and tented. Managed to do about 1100 kms for the day.
Day 2 : I'd always wanted to drive the road to Chibougamau over to northern Ontario. It is 200 kms shorter to Thunder Bay (from Riv du Loup) than the Trans Canada and had some other great advantages I soon found out. Imagine a 600 km road (from Lac St Jean to Senneterre) with great scenery ( ahh . . yes . . . and a lot of trees too), long straights, gentle curves, almost no trucks, no tourists, and for a real bonus . . . no police. There's a station in Chibougamau, but that's 20kms off a T junction down a dead end. Well, if you want a trip to long distance speed nirvana , this pretty well qualifies, short of driving to Montana or Nevada. I ran between 120 and 150 kph for most of it. Lowest temps were 14 degrees in sun , got better as I hooked south again. From Senneterre I went west on paved backroads to Cochrane ( still no traffic to speak of ) and hit thunderstorms and heavy squalls after supper. Put on my rainsuit and rain boots. Took a cheap motel in Kapuskasing for $ 25. About 1200 kms total for the day.
Day 3 : Hit rain and dirt construction sections, miserable day. Picked up a stone in my throttle pulley V groove, noticed lumpy running below 2500 rpm. The local BMW mechanic Ed, found my first one last year, so I looked again and there it was, got it out with a toothbrush. Voila, smooth again. Feeling happy with myself I charged off into the "ughknown" and managed to run out of gas in the butt end of nowhere. I had added 3 liters to the tank capacity ( total now is 26 liters ) with an RT filler neck before I left and was obviously feeling too cocky. As my Kansas City friend used to say, I was now a victim of the six P's :
". . . Proper Planning Prevents Piss Poor Performance . "
Standing in the rain, I held my one liter oil can over the tank upside down while pointing to it as people drove by ( not many people going by either out here). A fellow biker driving a pickup truck stopped and took me to a fishing guide 6 miles away who had a gas pump and a beat up Harley, everyone else within 30 miles had two stroke mixed for the next chainsaw derby or whatever. I only lost about 90 minutes and swore that would be the last time…. and it was. Made it to Thunder Bay as the weather kept improving, then had a great ride to Dryden through the woods on a twisty but good road in the evening and late twilight. Splurged on another cheap hotel, $ 50, and hoped it would be my last. ( not ) 1000 kms today.
Day 4 : Back in the transCanada traffic I left in New Brunswick , doing 3500 rpm, at 110 km/h. Ho hum , sure do miss Chibougamou. Temperature picking up on the digital thermometer, hitting 30 degrees. Bypass Winnipeg to my north, look at the aviation museum in Brandon then across the 'bald ass prairie' to Moose Jaw for a night tenting. $ 6, a new low ! Park beside two his and hers Harley Davidsons from BC, one towing a trailer. My four day target to reach Calgary is not going to happen. Needed another 2 hours a day in the saddle to do that. Still happy with the pace so far, 1000 kms today.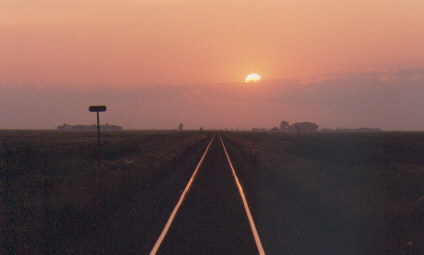 Day 5 : 700 kms left to go to Calgary, things starting to get really hot at Swift Current, 35.4 deg C. Funny how you feel better when that readout drops even two tenths of a degree. Open my boot flaps down to catch more wind, soak the T shirt in water, let it hang out at the waist and leave the leather jacket on half open to grab more evaporation. This lasts at least 2 hours if you control the jacket intake, your armpits and back stay cool and wet for a long time. I learned this from travelling in Australia years ago riding in a car all day at 42 deg C on dirt roads…. ( sounds pretty ugly doesn't it ?) Leave your shirt off, put a dripping wet towel around your neck and spread it across your chest, turn the vent windows in and suddenly you're " a bloody big canvas water bag, mate ", getting all that free evaporation effect. Worked for me this time too. Made it to Calgary by 3pm, noticed the temperature dropped 5 degrees an hour east of Calgary, must be the cooler air coming off the mountains, was a big relief. Stayed with Dave, an old skydiving friend from Halifax.
Day 6 : Sunday. Visited relatives and planned my next move, now that I had successfully made it this far. Most people back home thought this was my final destination. My philosophy is : why tell them where you're going if you may not get there, tell them where you've been .
Day 7 : Monday. Went to Blackfoot Cycle for a rear tire, big store selling all brands plus beemers. Great guys, fast service… out before noon. The Bridgestone BT 54 was shot and I put on a Dunlop sportmax touring 205, ( I notice they are on the new R1100S ) , the only decent tire (at a price I was up for) that they stocked in 18 inch. I figured it was a sacrificial tire anyway, if it did what I wanted and got me home it wouldn't owe me anything. Threw in a new air filter and hit the road for….. where else…. Sparwood BC , home of the world's largest dumptruck. Went down hwy 22, one of the prettiest in Alberta, to the Crowsnest Pass, and through the Frank slide to Sparwood. Took some pictures of the 350 ton capacity Terex Titan (only one in captivity I believe) sitting at the tourist bureau for my two boys.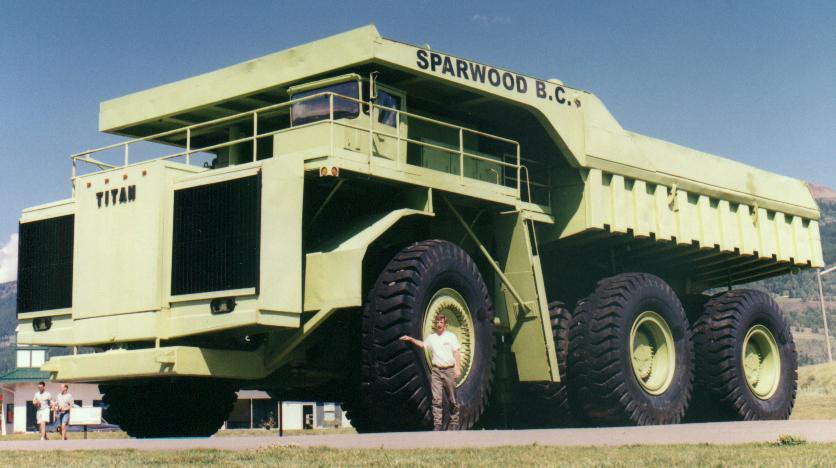 Well worth the detour. Backtracked to Coleman and turned north on the dirt forest service roads towards Banff. Did 100 kms of gravel road, very well maintained and easy to average 70 to 80 km/h on. Came out in Kananaskis valley, another half hour of pavement to Canmore. Real pretty scenery too. Tented in Canmore… $ 8 600 kms today.
Day 8 : Toured Banff, wandered around the Banff Springs Hotel where I worked as an electrician in 1970. Used to have pass keys for every place in that building, and now I gagged at the huge growth it had gone through. Did Lake Louise going north (more crowds, seen it in better days thank you) and headed for Columbia icefields. Spent the night wild camping outside Jasper. Listened to huge coal and freight trains screaming past on the main CN line. No charge. 500 kms today.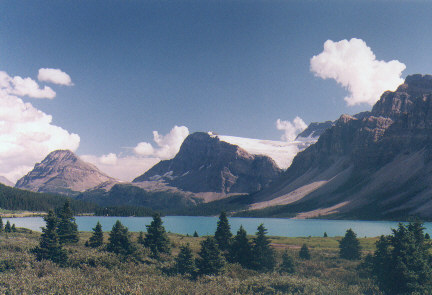 .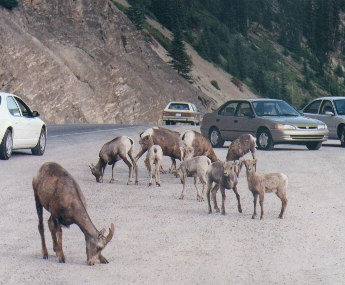 South of Jasper
Day 9 : Nothing too exciting, saw Mt Robson on the way to Prince George, made it to Smithers that night. More tenting at municipal campground. 825 kms today.
Day 10 : No one comes for my money by 8am. Ten minutes later I'm gone. Made it to Prince Rupert an hour before the Alaska ferry left. Met Ed and Bill. Ed was from Red Deer, Alberta, pulling a trailer with a Yamaha Venture, Bill (not his real name) had long hair and was riding a Goldwing to Alaska from California. Ed asked me where I was going, told him I didn't know, either Haines or Skagway , the last two stops on the ferry trip. Ed said he had planned to go south to Bellingham, Washington, but there were no tickets left on that boat , so he said ' What the hell, I'll go to Alaska instead .'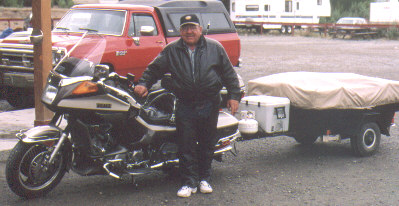 Ed Zaparniuk - 'Alaska ? ... why not ! '
We had a good trip, 36 hours for about $220 US. Stopped in half a dozen ports including Juneau the capitol (imagine Ottawa with no roads in or out…. can you spell airline profit ?)

After a day of camping out on the deckchairs with Bill and lots of other tourists from all over the globe, I realized I didn't know what he did for a living. I figured him for a diesel mechanic, or construction worker maybe. So I asked him.
He paused for a moment and then said " . . . . well Tree . . . , I'm a state trooper." I just started to laugh, he had such a perfect cover. " Oh ya," he said, " you wouldn't believe the guys who come up to me and try to sell me dope on the street. . . . " I asked him if he ever drove highway patrol, he had for the first few years . He was a funny guy, had some good stories. Told me about running into some Hells Angels outside a bar once as he got on his bike, worried they would recognize him under his helmet and shades. Just as he's backing out one guy yells at him " Hey, hey" and runs over. Gets all his buddies around and points down at Bill's bike, "would ya looka dat, holy sh i i i t, his bike's got reeee-verse ! " They all stand around and marvel , one guy says… "what'll those #@**# Japs think of next ! ". A week later, Bill's out on the freeway when a chopper roars up beside him but doesn't go by and the guy is waving and hollering at Bill. Oh no, here we go again, Bill's thinking. Guy yells "Reee-verse !!!" pointing at the gas tank and waving. Reminds me of a famous quote about Alaska . . . . . . " Girls, if you want to get married, go to Alaska. The odds are good . . . . but the goods are odd. "
Day 11 : All day on the boat. Nice ferry ride up thru inland passage to Skagway. Stopped at various ports including Juneau. Ed and I took a taxi into town for some new cigars for him, and stopped to look at the glacier that sits north of the city. I notice that the bikers don't wear helmets in general, but their passengers do, must be a town or state bylaw.
Day 12 : Bill got off the boat in the drizzle at Haines about 2am heading north via Haines Junction to Alaska. This route is very pretty, and is about 100 miles shorter than Skagway through Whitehorse to Haines Jct. ( The Skagway route is no slouch for scenery either. ) We dock at Skagway. It's 4am, 10 deg C and drizzle.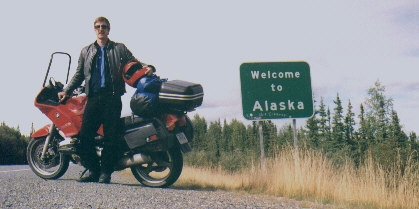 Glen and his wife are on another Goldwing from Minnesota pulling a trailer. Ed and I follow him out through the deserted town. We climb steeply up the White Pass trail into the morning fog. It is 20 miles to the Canadian border. For a while we are up in the clouds then down to a very desolate border crossing. Brrr. No hassles . . . do I have any guns, booze, bad habits etc. We have coffee at Carcross (caribou crossing) where 30,000 homemade boats came down the lake in the Klondike goldrush of 1898, then on to Whitehorse ( 200 km from Skagway ) for breakfast. Glen heads north, Ed heads south down Alaska hwy to Dawson Creek and back to Red Deer. I go to look for an oil change. My bike had used less oil than I expected on a long trip, half a liter in 7500 kms . Stop at the Yamaha dealer and browse, see heated vests for $ 99 , the same one was $ 120 in Hfx …. What's a guy to do ! Sold.
Go to Crappy Tire and get some more 20/50 Castrol (my last GTX… switched to Motul synthetic later in trip), then back to the dealer who cheerfully loans me a drop tray for my 4 liters of very black stuff. Yes, I agree 7500 kms is a bit excessive, but they were all highway miles weren't they your honour. Install my spare oil filter, throw in a new pair of spark plugs and I'm ready to roll. Spend the night at a friend's place 10 miles out of town. Paul has been there for 25 yrs, living in a nice three story 20 x 20 ft house with no plumbing. His livingroom has the biggest collection of car and bike books I have seen in years. Neat house. Kitchen is the first floor, livingroom the second, and bedroom loft is on the top. His buddy who lives 10 miles further away and has no phone service, installed an antenna on Paul's roof and has a repeater on a mountain somewhere else. Box of electronics in Paul's kitchen switches calls into Yukon phone system from out in the woods. Lots of that kind of ingenuity around from what I see.
Day 13 : Do some regular maintenance on the bike, install electric vest plug wires on battery, vacuum dirt and stones out of airbox and filter. Head north for Dawson City, home of the Klondike. Just north of Whitehorse, go down a dirt road to Lac la Barge, made famous by poet Robert Service ( " twas on the marge of Lac Labarge "' or some such line ). Wash my face and cool off. Find a perfect bullet head sitting in the water just under my eyes. Put it in my pocket for a souvenir. Stop at the Yukon Baha ' i Institute which is on this road and meet some fellow Baha'is from Africa and Ottawa. Very nice wooden building with high ceiling in a six sided circle shape. Continue north through some newly burned forest fires, patches of ground still smoking. Very dry season, fires for last two months in this area. Get about halfway to Dawson, tent in Minto by the Yukon river at 10pm. Cold water running fast, you can hear the current as it breaks around the rocks by the shore. Stays light enough to see until about 1am in my tent. 300 kms today. Campground $ 10
Day 14 : Up early, come to the gravel turnoff to Inuvik, the end of the world for Canadian roads. Head up the Dempster hwy a few kms for a short look see. It is 700 kms to the end, t oo far for me this trip . It would take 3 days to do it properly and I know I won't have the time I need in Alaska if I go. Ride into Dawson City,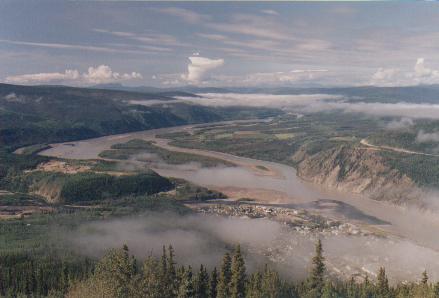 .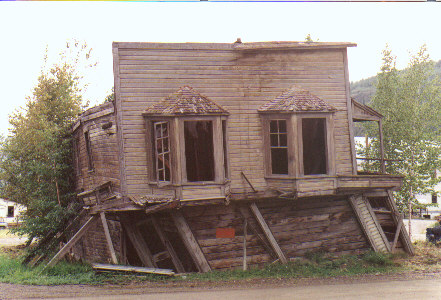 Dawson City on the Yukon River
stop at Beaver Creek to tour the gold smelting museum run by Parks Canada. Well worth the hour or so. Drive up Bonanza Creek 12 kms to see huge floating dredge that Parks Canada restored from the fifties. It has floated UPHILL in it's own pool of water for miles, digging ahead and filling in behind as it went. Drive around Dawson City, all dirt streets, neat atmosphere. Lots of stores, cafes, museums, falling down buildings left there on purpose. Meet eight German guys dressed like scouts all in lederhosen with boat knives on their belts who have paddled down the Yukon River from Carcross in 3 canoes. Funny sight. The whole world seems to be in the Yukon . Go across the river by ferry at the north end of main street to tent at gov't campground. Set up next door to a fortyish guy from Oklahoma in a wheelchair and pickup truck. Says he's cruising around seeing the north. Sleeps in back of truck, no hassles raising a tent ( or fighting off bears for that matter ! ) 450 kms today.
Day 15 : Head north from Dawson in sunshine towards the border and Tok, Alaska. First 100kms is most incredible road I have driven on a bike called Top of the World hwy. It climbs and climbs, following mountain ridgelines and not down in the valleys. Great views in all directions, immense vistas, huge distances. A camera can't even begin to capture the feeling.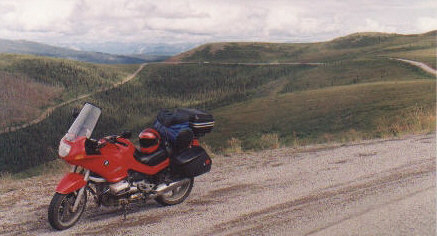 Top of the World highway
Road is now finally paved to border, took 3 yrs to finish. Long sweeping curves through scenery that looks like the Scottish moors at times, like a huge road racetrack that never quits. Quite a few motorhomes around, mostly US plates with big Cummings diesels, 35 footers worth $ 150,000 US towing full size trucks or Cherokees behind, with on the roof in-motion satellite tracking antennas for TV and a couple of air conditioners. The sight of one of them coming the other way with a 70 yr old woman or man driving is sobering on a bike.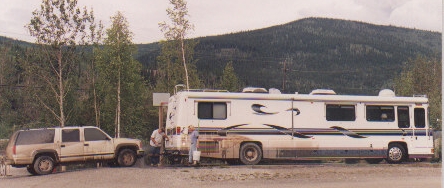 Arrived at the Alaska border, a real frontier outpost high on a hill, ( this road is not even open in the winter ) and the US immigration guy asks me where I'm from. Oh, Nova Scotia .... well, do I know the Rankins ? Yes, worked on some of their music videos. His wife is from New Brunswick. She likes their music. He says "Well, have a nice trip but be real careful for the next 106 miles . . . . it's all dirt " , (and motorhomes). It will take about 3 hours he adds. So, you leave Top of the World and fall off the edge of the world, or so it seems. Not a goat track, more like a chicken track in places. God help you if it's raining. In fact, the first town you come to is Chicken, Alaska… population 17.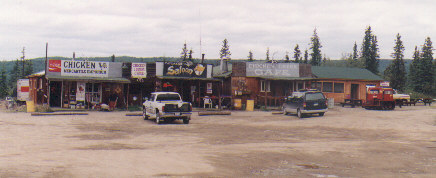 Downtown Chicken , Alaska
( they have their own website and it is a hoot )
www.geocities.com/thetropics/4097 )
I noticed in Alaska that the airports are all well maintained, even in tiny towns, but the dirt roads take second place. Maybe that's because one in eleven people have a pilot's license, or so I once read years ago. Plodded along, noticed the absence of bikes for the first time on this trip. Dirt in Alaska seems to scare off ninety percent of the riders from what I saw. What do they say ? . . . when the going gets tough, the tough get weird. Stopped at a river to shave in a pool by an abandoned dredge the size of a small ferryboat.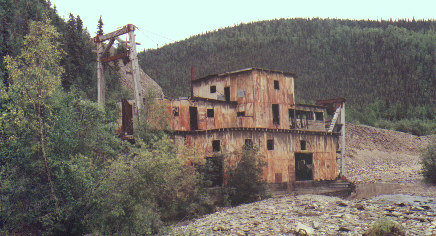 Lots of people stopping to check it out, only man made diversion for fifty miles I reckon. Hit some nicer gravel sections that ran straight for miles, would allow up to 100 to 110 kph. Came down mile after winding mile out of the mountains into Tok after about three and a half hours. Back on pavement. This stretch was probably the highlight of my trip, don't pass it up if you're on a bike and the weather is half-decent. Went north to Delta and camped, did a load of wash. 550 kms today, slow maybe but good ones.
Day 16 : North to Fairbanks, small city of about 35,000 Went to 3 bike stores snooping, even found a Ural dealer with new sidecar rigs from Russia in his showroom. He had city map on wall with all the dealers marked so it was no problem to get around and see them all. Seemed like a real friendly town. Went shopping, bought a very sharp locking blade knife on sale, it was either that or pepper spray and the can was too big for my gear. Wanted something for bears as a backup in the tent, at least this way I could cut an exit in a hurry if I had to. My swiss army knife didn't inspire me for hand to hand combat somehow with its nice folding blade . . . ow ! Went outside and the rain started ( was to last 3 days). Decided to head south and hope for better conditions. Drove down hwy 3 towards Anchorage. Spent a very wet night in a hotel near Denali state park (Mt McKinley). $ 58 US, my most expensive so far. Low clouds and drizzle, tourists (on a huge scale) had not seen the mountain in weeks. 400 kms, a light day.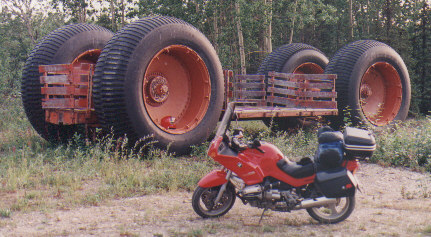 Arctic Snow Train wagon from US army 1960's ? - by hwy north of Delta
( there were 8 wagons plus tractors at front and rear for winter travel - 572 ft long ! )
Day 17 : Temps as low as 8 deg C, occasional rain. I'm really using the electric vest now. Running silk long underwear under sweater, vest, leather jacket and rainsuit. Feels good. Drove to Anchorage down a very nice paved hwy between the mountains. Met four guys in a restaurant on Goldwings from Florida and Wisconsin, mostly late forties and older. One fellow was pretty amazing, he was an amputee from the left elbow down. I didn't get to see him riding or look at the bike modifications, but I know for a fact he did not use an artificial arm. Also saw lots of other beemers between Fairbanks and Anchorage…. Swiss, German and even Spanish guys, mostly on F650's or GS 1000 and 1100's. The six Spaniards had shipped their machines to Spokane and driven up to Alaska.
Got to Anchorage, was tired of having wet, cold hands so I went straight to the REI outdoor equipment store to find the solution I thought might be there. Got the last pair of goretex overmitt shells for mountain climbing , $ 69. These were not the normal mitts, but had five finger design which I wanted. Now I could wear my leather Kevlar gloves underneath, or my thick aquacell ski gloves for more warmth. ( I had alreadydecided that aquacell must stand for 'absorbs water' , but the beating they got for hours in the rain would have killed any glove that wasn't a goretex type ). Went to another hotel for the night ( my fourth and last on the trip ), cause I wasn't up for the rain/tent combination. Spent $ 80 US for a room , ouch ( the exchange rate was approaching 150 % ). Slow day, 400 kms.
Day 18 : Woke up, looked at the rain and decided to head south for Seward on the Kenai peninsula, a very popular tourist area. Figured the weather couldn't be worse down there , and in fact it improved. Made a detour to the Anchorage airport, mindblowing collection of dozens of floatplanes, plus parking lots with at least a thousand light aircraft, mostly supercubs with tundra tires for landing on gravel bars in the rivers. Stopped to see hundreds of locals fishing salmon in a river just outside of town. Sunny at Seward , looked at cruise ships, ate smoked salmon called 'squaw candy', and backtracked north until turnoff to Homer. Ran through rain squalls and sunshine all afternoon. Got to Homer 9pm , a small fishing village at the end of the road. It looks like the end of the world, small community on the very tip of a flat beachrock peninsula. You can feel Russia just over the horizon somewhere. Tented on beach for $3. Life is easy in Homer. 600 kms today.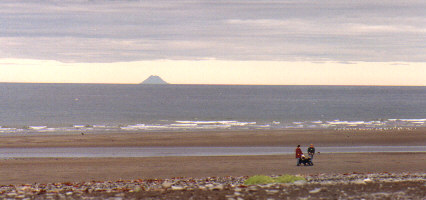 St. Augustine Island 75 miles SW of Homer, 4100 ft high volcano
Day 19 : Woke up to see a volcano all by itself out to sea, inactive and height about 4000 feet. Neat sight in the pink dawn sky. Not much to do in Homer, so I headed north. This was my psychological ' turn around point ' , where I felt I was no longer outbound but on my way back home to Nova Scotia. Had just turned exactly 10,000 kms. Drove to Anchorage in occasional drizzle, then became sunny and on to Slanajust west of Tok. Don't blink, you'll miss it. Found a friendly older pioneer type lady driving a bulldozer at her new campground, carving out some more RV spots. I was the first and only customer by the look of it. Tented. $ 12, no bathrooms or water hooked up yet. Generator running in shed to power the ranch , reminded me of the gennies all over Australia powering the outback towns. Thumpa thumpa thumpa . . . Nice sound to fall asleep to. .800 kms today.
Day 20 : Some of the best scenery on the trip today. Wrangell Mtn range to the south with brilliant white snowfields and glacier rivers.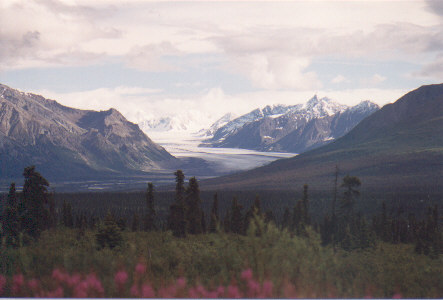 Wrangell mountains
Went past Alaska's only active volcano, hidden in it's own steam cloud and overcast. (Can't remember the name of this peak). Drove east to Tok then south to Haines Junction. Some stretches of dirt construction but none longer than 5 miles. Nothing my streetbike couldn't handle. Met Jim from Detroit on a Honda VFR, overloaded with a huge hockey gear bag on the back, must have been at least 150 lbs. He was doing about 95 mph when he went by me the first time. Met him further down the road taking a break. He was coming from Prudhoe Bay, the end of the dirt road in Alaska, heading for the ferry at Haines to Washington state. Did the dirt road with a Swiss guy on a GS1100 BMW in the rain, unbelievable. He said his bike was pretty heavy, had dropped it about six times, mostly trying to park it. The 4 man tent and two sleeping bags were definitely overkill he had decided. Seemed to be having a good time though, so we ran together for half an hour until I stopped for more pictures. Kluane Lake was amazing, huge and covered in a sea mist. Destruction Bay one of the most desolate spots I have seen , no wonder it got it's name. Got to Haines Jct about 9pm, tented $ 10. 600 kms today.
Day 21 : Met two guys on beemers last night at a restaurant, one was a fisherman on a R90S going home to Homer, the other a late forties guy with a pony tail riding a fast K1200RS. They had just road raced from Whitehorse, 90 miles south. Chris, the older guy was really pumped up, looked at me and said ' One hour from Whitehorse…. SMOKIN' ! ! ' He was from New Hampshire, had come west in nine days, about 4600 miles. I asked him … " Get any speeding tickets on the way ? " Ya, two "How much did that cost you ?" $ 480 ! " That's a lot of money Chris !" No man…. Listen, it's a bargain… two days at the racetrack back home costs me five hundred bucks, I've been speeding for TEN DAYS and I'm still TWENTY BUCKS AHEAD . . . . . . . . SMOKIN ' ! ! !
Headed south to see Haines and the mountain scenery on the way, nice ride down a wide valley with a few extremely long straight stretches, almost no traffic.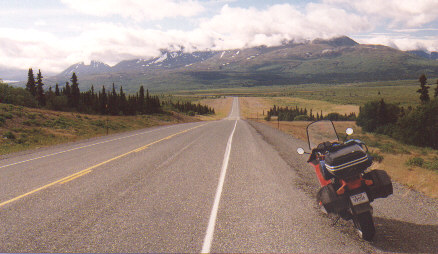 Opened the bike up on one of them to see what the top speed was closer to sea level, with luggage. Reached about 205 before I backed off. It would go higher with less weight I figure. Apparently I passed Jim somewhere along the road . He was camped behind a rock and saw me go by, he had a very cold night at a higher altitude than me. Met him later in Haines ferry terminal. Got to Haines in drizzle and found an early ferry going to Skagway, one hour up the coast. Hopped on for about $28 US. This gave me the afternoon to really explore Skagway, unlike my previous visit at 4am.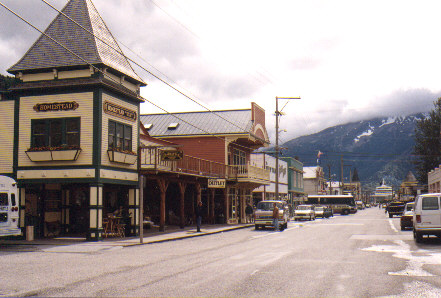 Cruise ship at end of Skagway main street
It also put me 100 miles closer to Whitehorse than backtracking from Haines through Haines Junction. Weather got better, and Skagway had 3 huge cruise ships in port. What a zoo, 3000 tourists. Helicopters were taking off 3 at a time flying in formation one behind the other down the fiord to the Chilkoot trail, then back 15 minutes later for the next load of passengers. They don't mine gold anymore in Alaska, they mine tourists, and the supply will never run out by the look of it. Did some shopping on the main street, presents for my family. Detoured down dirt road 5 miles to Dyea, the original trailhead for the Chilkoot pass , then on to Whitehorse. Spent the night at Paul's house again.
Day 22 : The outlook was for rain, so I decided to take advantage of the dry weather while I could and head down the Alaska highway. Paul told me that it was about 300 miles each to Watson Lake, on to Fort Nelson and finally Dawson Creek on the north edge of the prairies. Made it to Watson Lake early afternoon and had lunch by the famous signpost forest park they have built with signs from towns all over the world. Farther south I stopped at upper Liard hot springs for a well earned bath, you walk in ten minutes to a big pool of sulphur smells and 100 degree water that runs out over a waterfall. Met a British couple driving an old Honda CX500 from South America, they were going around the world. It was their second CX, they had bought it in Mexico. I guess the Alaska highway was quite tame for them after the mountain roads of Chile and Peru. I managed to get as far as Stone Mountain by dark, and pitched my tent by the side of a river among half a dozen big RV's. I was the only bike or tent. 800 kms today and halfway to the Peace River valley.
Day 23 : Dodging rain showers, bought breakfast in Fort Nelson food store but had to run south before I could eat, big wall of rain coming from the north at about 30 mph. Took about 100 miles to really get out into the sun again, had a meal finally. Stopped at Dawson Creek to square up my gear and went into the swimming pool to use the phone. Nice big shower in the men's washroom, so back out to the bike for my soap. Got clean, had a shave and put on some fresh clothes. My plan was now to turn east and head across the top of the prairies. I was counting on cooler weather up there and less traffic. Took hwy 49 to Spirit River, High Prairie and on to Lesser Slave Lake.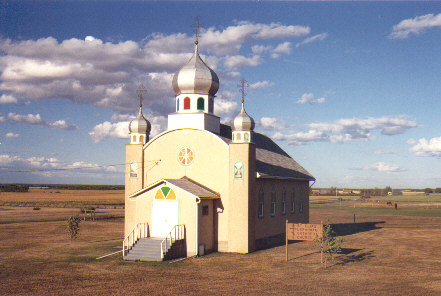 Russian orthodox church on prairies.
Tented after dark on south shore, watched the forest fires burning twenty miles away across the water on the north side, pink and yellow glow lighting up the night sky, quite a sight. They had been going for two weeks the lady at the campground told me. 1000 kms today, smokin' !.
Day 24 : Nice and sunny, went through Lac la Biche and Cold Lake on hwy 55 into Saskatchewan. Roads were straight and fast, not much traffic. Turned south at Meadow Lake to Glaslyn then east again on hwy 3 to Prince Albert. Found a picnic area with nice grass on the prairie after dark and put up the tent about 10pm. Good sleep. 1000 kms today.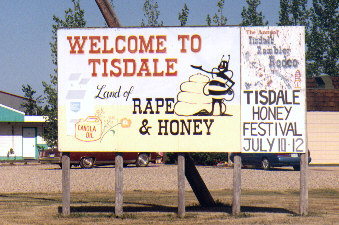 .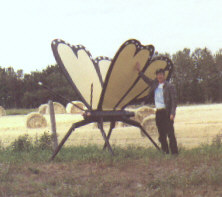 Saskatchewan - plywood butterfly in farmers field
Day 25 : East through Tisdale ( big sign proclaims it the ' Land of Rape and Honey ' ), and on to Crooked River into Manitoba near Mafeking. This is the end of my easterly run from Dawson Creek, now head south past Dauphin to Ochre River then along the shore of Lake Manitoba to Portage la Prairie. Tent in a campground for $12. 800 kms today.
Day 26 : Bypass Winnipeg again due south towards North Dakota on hwy 13 to Winkler. Met a lady on a Harley gassing up, she was heading back to BC from Thunder Bay. There was a white stallion painted on her blue tank, galloping towards you through some water. Nice work, took a picture of that.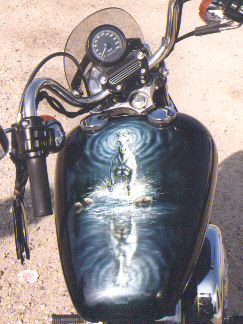 Turned east at Winkler and ran through farmland to border crossing near the southeast corner of Manitoba by Lake of the Woods. Enter Minnesota and go through International Falls to Duluth. Follow the road, not paying much attention, when suddenly it ends at a marina by a lake. First time I was somewhere I hadn't planned to be. Backtracked to last town ten miles and got back on hwy 53 to Duluth. Stopped for a swim and soap down at Pelican Lake about 4pm, it was 28 degrees. Nice break. Hit Duluth just on dark, skirted the city into Wisconsin. Pulled off the main street at Poplar to put on my silk long johns and electric vest, found a local museum on a back street dedicated to Richard Bong, America's ace of aces, the airman who downed 40 planes during the Pacific campaign. Unfortunately, his P 38 Lightning was no longer outside on a tall pedestal, but off in storage waiting for his bigger museum in Superior. Drove another hour and tented at a state park up in the hills above Lake Superior. 900 kms today.
Day 27 : Finished driving the south shore of Lake Superior today. By 3pm it was 30 degrees so I stopped at a very long beach and had a swim in the clear water. Lots of people sunbathing, it was a scorcher. Got to Sault St. Marie by supper, looked into the Canadian Bush Pilot museum on the waterfront. Got halfway to Sudbury by 11pm, tented at a campground past Blind River. $10 800 kms today
Day 28 : Woke up to rain clouds, got my tent stowed just before a downpour. Hid out in the shower building for twenty minutes until I could pack the bike. Headed to Sudbury in showers. Had lunch in North Bay, got to Ottawa about supper. A real bed at another friend's house for a change.
600 kms , pretty easy day.
Day 29 : Overcast, no rain, southeast towards Montreal, then turn off south to Cornwall area so I could cross the St Lawrence west of the big city and stay on secondary roads. Nice countryside to Cowansville area. Stopped at a Yamaha shop in Bedford, a small town . Met Pascal, a racer who owned the store. Very nice guy to deal with, took the bike into the shop after hours and we installed a new front Battlax tire for a lot less than I would pay back home. This was a good time to do it, there was already 22,000 kms on the old one, my longest tire yet. I was overdue for an oil change , dug out my spare filter and made the leap to synthetic oil, Motul 3100 4T. Pascal uses it in his race and street bikes, and sells hundreds of liters to his customers and racers. There was 10,000 kms on the old oil in 24 days, I was definitely pushing my luck. Rode down into Vermont and New Hampshire late, dodge 2 moose and a fox, too close for comfort on the big guys. Entered Dix Notch state park, no campgrounds. Went up a dirt road to tent about 1am. 500 kms today, feel like a tourist for a change, lazy pace.
Day 30 : Aug 19th. Last day on the road. Up at 7am, park ranger in a 4wd showed up about twenty minutes later when I'm half packed. Nice guy, mid thirties, just laughs and says.. "Well I guess you've done a bit of this before if you went to Alaska and back". We yarn a while about smugglers and his job. He is from Ashland Wisc, which I came through two days earlier. Talk for half an hour, then down hwy 26 to Rumford and east on hwy 2 towards Bangor, heading for the ferry out of Bar Harbour, Maine. Meet an interesting couple in the ferry parking lot, driving a Honda Goldwing 1500 trike pulling a trailer.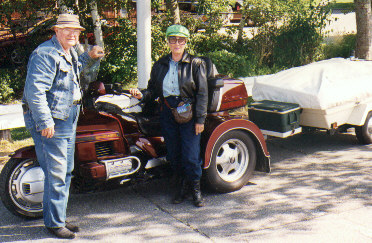 Jack and Zoe Cox are from Oklahoma and have been married 55 years, Dick flew B25's and P38's during the war. His wife says they got the 2 wheeler converted to a trike last year. Dick tells me he did it partly because she was having trouble keeping the 2 wheeler up by herself when she drove ( 800 lbs ! ) . Now Zoe drives whenever Jack wants a rest, she says it's as easy as a car. They had already done the Cabot Trail in Cape Breton a few years ago on two wheels. It was great to meet two people who still liked to bike, no matter what age. As a Florida BMW rider in her seventies said to a friend of mine once, " If it hurts as much to stay home as it does being on the road, you may as well be on the road . "
Boarded the ferry about 4pm, the new FastCat turbine powered catamaran from Tasmania, fastest ferry in North America.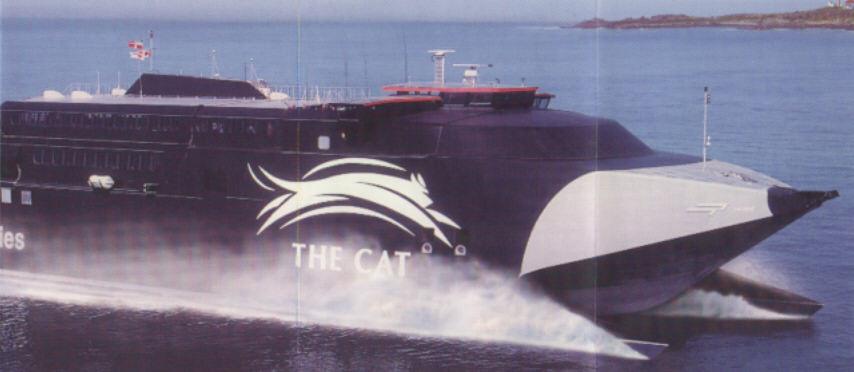 .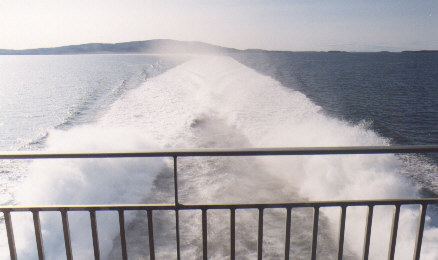 It runs on 2 hulls at 90 kph, has four 9500 hp jet turbine engines running waterjet nozzles like an overpowered seadoo. Great trip, very calm seas. Room for 200 cars, it is 300 ft long. I park my bike away from the cars and strap it down in 4 directions in case the water gets rough. At these speeds it wouldn't take much swell to really bounce around.

We do the six hour trip in two and a half hours. Get off in Yarmouth at 8pm and head straight for home, a three hour run. It is only the second time on this trip I have done any serious night riding , there were too many animals up north to make it worthwhile, and you don't see much scenery running at night.
As I pull into my driveway the odometer is turning 35,400 kms. Not bad for 28 days, 19,000 kms or an average of about 700 kms per day. ( about 12,000 miles ) I crossed the border ten times between the States and Canada, and never spent more than a couple of minutes doing it. Only had four nights in hotels, five with friends, two on the ferry, and eighteen tenting. Spent about $ 500 on gas, $ 500 on ferries and $ 300 on hotels. It has been a great trip, the memories will stay with me for a long time. Some of the best people you meet on bikes are on the longer trips, they have the same kind of road fever for the long haul and new sights every day. It is a great way to see any country. It has been over thirty years since I started riding motorcycles, and now I have finally taken one to the Yukon and Alaska. If you have the time to do it, I can't think of a better place to go. Maybe I'll even try for Inuvik and Prudhoe Bay next time !